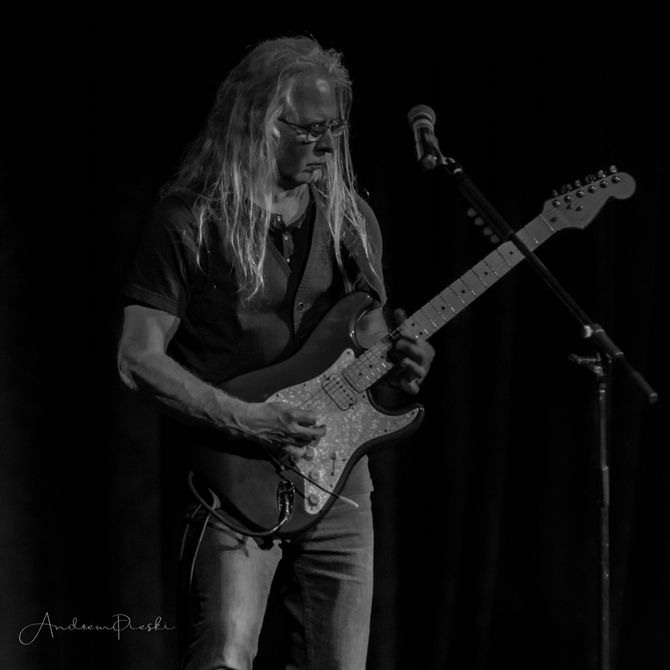 My Story
The story behind "The Stuff Of legends" album
It all began at the age 4 at the Salem Civic Center after watching Johnny Cash and June Carter perform "Jackson", my favorite song at the time. After the concert my Mom and Aunt were talking with the Statler Brothers, whom they used to perform with back in their hometown of Staunton, VA when they were teens. As I was hanging out on the fringe of the conversation, I suddenly saw a compelling figure walking towards us. My gaze certainly caught his attention and while briefly saying something to the Statlers, the hand of Johnny Cash gave me a gentle pat on the head as he walked away and I could only think "I want to be THAT guy someday". 
A couple of years later my favorite song was "Galveston" by Glen Campbell. My dad, who was part owner of a restaurant used to give me dimes for the jukebox before opening hours and I would play Galveston over and over waiting for the baritone guitar solo on the ride out that would just cut to my core. After seeing Glen with Jerry Reed and John Hartford on the Goodtime Tour all I could think is "I want to be those guys."
Then at the age of 10, I was at summer camp listening to a couple of the councelors sing and play guitar around the big bonfire. An even bigger fire ignited and only continued to grow for the next 6 months when I finally received my first guitar, A Stella Harmony on Christmas Day. There was no looking back from that point on.
During my pre-teen and early teen years, many a day was spent sitting on the hood of an old Ford Falcon in my backyard strumming from a Neil Young songbook and whatever other songbooks I could find on the shelf at the local library. One of my first performances was when I played a Paul McCartney song for the school talent show, playing to a packed gymnasium. The place went nuts and called me back for an encore. My thoughts at the time were "hmm, I just may be on to something".
As a young gun guitar player in my teen years during the mid '70s, one can only imagine the number of hours I spent immersed in the vast wealth of music being created during that decade and time spent trying to recreate what I was hearing on the fretboard. Whether watching a band at the school dance or a major act in concert, I was always hawking what the guitar players were doing. After watching Michael Schenker tear it with UFO, I went home and played my guitar all night. Much of the music on The Stuff Of Legends pays tribute to the artists who were the soundtrack and my guiding light during this time of my life. "The Electric Boardwalk" tries to recreate a feeling from a night, when at age 14, I was on the Carolina Beach boardwalk just hanging outside of a club listening to Thin Lizzy, Foreigner, Boston and Frampton blasting from the jukebox with the waves crashing in the background. My most impactful moment was when a band member showed up to band practice with the newly released Pink Floyd "Animals" album. On that night, David Gilmour became and remains to this day, one of my biggest influences (Check out my song "Battersea") Getting tickets 00001 and 00002 for the Rush Hemispheres Tour is probably the second biggest impact. One thing was for sure... I wanted to be those guys.
The '80s saw me transitioning into adulthood, coming up through the musical ranks in my hometown of Roanoke, VA, then relocating to the DC area to jump into a larger pond. The 80s culminated with the band Armageddon that I was a member of at the time on the cusp of a major record deal before due to a bazaar set of circumstances that's another story, brought things to a grinding halt.
The '90s brought on marriage, kids, a full time guitar teaching gig to support them and band called Dream Theater granting me permission to push my musical boundaries in an era of "anti-virtuosity". I recall going into the recording studio with everything that I was going to play transcribed only to have a producer tell me my problem is that I was too good. I needed to play sloppier.
The year 2000 saw the release of my first instrumental solo album release entitled "The Fault Line Dance." It was a progressive metal shred fest that received some fanfare on mp3.com back then. I consider it a prologue to my three Attic Symphony albums that would follow.
In 2002 I relocated to Charlotte, North Carolina and 2004 saw the release of the first Attic Symphony album which was basically an instrumental retrospective of the songs I co wrote with the band Taker whom I was a part of from 1986 through 1990. 
In 2007 I released Attic Symphony II; Cold Vast and Severe, which was based on a quote from C.S. Lewis describing a feeling that would come over him when reading literature and Norse mythology. He called the feeling Northerness and described it as a spiritual hunger and longing that was a fulfillment in and of itself. He described the feeling as cold, vast and severe like Northern skies. Attic Symphony II was my attempt to put that feeling to music.
On into 2011 and the release of Attic Symphony III: The Moonlit Attic. For about 10 years since hearing Dream Theater's Scenes From A Memory and TSO's Christmas Eve and Other Stories, I had been sitting on a story line of my own about a fiery young composer / violinist who at the very cusp of major success receives a mysterious visitation right before a showcase performance. This person or entity hands him a riddle that bids him to dissappear and solve the riddle that ultimately leads him to the discovery of a time capsule containing an unknown work of Mozart. As the curator of the work who eventually debuts the piece, it sets into motion a chain of events leading to and endgames battle of good and evil. The Moonlit Attic is the inspiration behind the name Attic Symphony and I do plan to re-record a more symphonic version of this album complete with the full story in booklet form.
In early 2017 I switched gears and released my first album under the Robert Bussey name. Entitled "The Stuff of Legends" this is a tribute to the many artists that have been a guiding light throughout my musical life. It's a reflection of my musical past and present with a retro vibe featuring my slide guitar work. "The Stuff of Legends" also sets the stage for where I'm going which I will be telling you about soon. Stay tuned and get ready, this is about to get good! - Robert